Find the right used printing machine for your production requirements. Sell your used printing press in a timely manner at a good price.
Allforprintmarket is your trustworthy partner since 2006 in trading used printing machines.
Allforprintmarket is offering consulting services to help customers choose the right used post-press equipment.
Choose us to sell your binding line, we have extended expertise and knowledge to make this happen!
Looking to sell or buy a converting line?
Allforprintmarket's team is here to help you! We assist you with the entire process for ensuring a successful transaction.
Looking to
buy or sell

printing / packaging equipment?
Used Equipment Categories
We have clients all over the world and we offer our expertise regardless of location and the type of equipment. We offer seriousness and professionalism at high-quality standards.
Used Printing Machines for Sale. Find hundreds of used printing presses for sale! Feel free to contact our consultants to help you find the right printing machine for your needs.
Used Converting lines and packaging production machines for sale. Search through the proposed lines for sale and find the right one for you! Contact us if our support is needed, we are here to help!
Post Press & Bindery & Finishing
Used post-press equipment and bindery lines for sale. Trade your binding and finishing equipment with Allforprintmarket! Contact us if you are buying or selling, either way, we offer the right solution for you.
You can't find what you are looking for? No worries, we are here to help you!

Leave a message and one of our consultants will contact you shortly!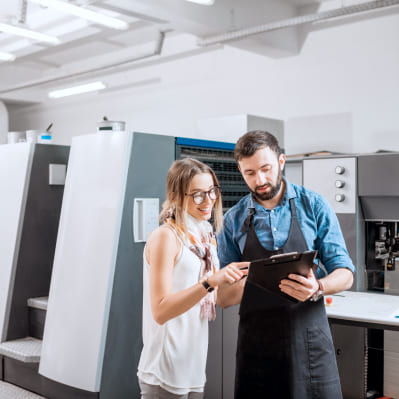 Whatever equipment you need, we are here to find it for you!
Over the last 17 years, we traded used machines for the printing and packaging industry from over 40 countries on various continents.
500+
Sold machines in over 40 countries.
17+
Years of experience in the field.
7.5M +
Over 7.5M euros in equipment value.
Find the equipment you need and fill the contact form.
Buying a used machine proposed for sale by Allforprintmarket, which is visible in the offer on the website, involves 4 simple steps you can discover further.
Contact us & fill the request form.
Contact the Allforprintmarket team either by completing the offer request form for the used machine of interest, by requesting an offer on WhatsApp at the phone number:+40 735 886 201 specifying the manufacturer, model, and year of the equipment, reference number, the company you represent and contact details (name, email, etc.) or by calling the phone number:+40 735 886 201.
Our consultants will contact you.
Within a maximum of 24 hours, an Allforprintmarket consultant will send you the requested offer by one of the methods shown above and is at your disposal to discuss any clarifications required.
We handle all the purchase for you.
If you confirm your interest in the used machine for the printing and packaging industry offered on our website, you will be contacted by an Allforprintmarket consultant to discuss the next steps in completing the desired transaction.
You can easily buy or sell printing and packaging equipment
by following 4 simple steps.
Used printing and packaging equipment from trusted brands.
Global cover for any transaction. We take care of everything, from A to Z. Get in touch with one of our consultants!
We are here to find the best solutions for your requirements and sell your machine in the best deal conditions.
We provide a dedicated free consultant for the buying or selling process.
From consultancy to finding the right equipment, from technical inspections to handling the payment, and from dismantling to installation, we take care of everything.
We carry out a professional evaluation of the value of the equipment you want to buy or sell.
Are you looking to purchase used equipment but unsure where to start? Don't hesitate to contact us – we can help you every step of the way.
Do you have used machines for sale? Send us the details and we will help you with this.
See what our clients say about us.
Allforprintmarket and Catalin Rusu have been a great asset liquidator for Interpress Technologies. We have presented many opportunities for others to enter the printing and production printing related equipment. They have supported us in the conveyance of the equipment and very proficiently coordinated the payment and finalization of shipment. Very easy to contact and communicate with Catalin, he is on top of things and quickly responds to needs that come related to the transaction and the sale.
We decided to close the business line for processing continuous stationery and business forms, and Allforprintmarket team helped us to sell the related printing press to clear space for new production. We have enjoyed a close collaboration with Allforprintmarket to make this happen.
My company bought a roll-to-roll sublimation machine via Allforprintmarket. Communication was good and the deal went in an honest and fast way. The equipment condition was as advertised. I recommend Allforprintmarket services!
The most important thing in the collaboration with Allforprintmarket was that we had a single point of contact during the discussions. We needed help to equip a printing house with machines to produce books, and the Allforprintmarket team offered us support to purchase the right used machines for us.
Our printing house required assistance with the sale of used equipment. Fortunately, Allforprintmarket provided us with the necessary support. We are extremely pleased with the services offered by Catalin and his team, and we strongly recommend their services to anyone in need.
Selling or Buying a Man Roland 904 or 905
Expertise in both purchasing and selling pre-owned die-cutting machines
Steps for Buying and Selling Used Printing Machines